About Us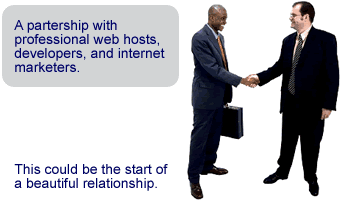 WebmasterDeveloper.com is a privately-held partnership based in San Diego, California, specializing in web site design, web hosting, database design, and Internet marketing.
With years of experience in both computer technology and marketing, we are uniquely suited to provide you with the finest quality products and services.
Our mission is:
To provide the best service we are able to our customers
To perform our services as quickly as possible to minimize our customers expense
To help our customers improve their long-term productivity and profitability
Fast and dependable
Samples of recent past work and clients that use our hosting and webmaster services.
WHAT OUR CUSTOMERS SAY:
Chris Johnson lead project coordinator and the staff at WebmasterDeveloper in San Diego, California have been extremely helpful to our Company with redesigning, SEO implementation and updating of our current web site.
As a manufacturer of specialized products with global customers, it was very important for us to choose a web design company that could provide the time and effort to address all of our requirements for this update.
We especially found Chris easy to communicate with and were impressed with her design suggestions, patience and professionalism.
Webmaster completed our Company website update faster than we thought possible and at a cost that was very reasonable.
I would highly recommend Chris and WebmasterDeveloper to any person or business looking to update or design a website.
Eric Reinhorn
Vice President
Rhine Air, Inc.
Santee, CA.
-------------------------
As owner of Professional Bartending Schools, I have had the pleasure of working with WebmasterDeveloper.com for many years. As a current client it is a genuine pleasure and honor for me to recommend this company. This company has providing me with excellent and efficient service and have always been personable in helping me build my business.
They have assisted me with any and every web related need with diligence and meticulous quality. I can wholeheartedly state that they are and have been great creative developers with full services. They have always executed my requests with professionalism, quality and a great sense of urgency. They have been very thorough in aiding me to build my website(s), covering all aspects such as creating new sites, modifying my existing sites while efficiently managing my pay-per-click campaigns. On more than one occasion, I have called with web-related emergencies. During these situations, I found them to be committed and effective with their solutions.
Please accept this letter as my personal and professional endorsement for I have recommended them in the past and I will continue to recommend them in the future.
K. Taboth - Owner
-------------------------
I learned of WebmasterDeveloper.com through an organization I was involved with. Having had two rather disappointing webmasters in the past, I was hesitant to switch again only to be let down again. Finally, I was desperate enough to switch—and promptly wished I had done it sooner.
The staff at WebmasterDeveloper.com are everything I had hoped for: knowledgeable, affordable, quick, and PATIENT! Perhaps most importantly, they helped me know that they had everything under control and that I no longer needed to worry about my web site. They even made me laugh when I was losing my sense of humor.
They took my design ideas and gave me suggestions for improvements. They walked me through each decision, brainstormed with me when appropriate, and created a finished WordPress site that was aesthetically and functionally better than I had originally designed. Then they patiently taught me how to update the site myself. And, when I still need them to edit or fix something, they respond quickly and are easy on my bank account.
Thank you WebmasterDeveloper.com!
S. Hatcher - Owner
Connections Counseling Center
-------------------------
Testimonial from: Eaton Canyon Treatment Center, Eaton Canyon Medical Billing currently in development, Eaton Canyon Foundation in Pasadena, California. It is imperative that the word gets out regarding the website design, webmaster and internet services that my (3) businesses have received from webmasterdeveloper.com.
Each website was completed from start to finish within (7) days as promised. Their staff was extremely patient, understanding and professional in this process. With there extensive experience, there team was able to take my dated, non producing websites and bring them to a level of competitiveness in each respective industry.
I am proud to say that my minimum financial investment has produced a maximum financial gain!
J Heard, CEO
-------------------------
Want to thank you and your team for your work on our web site and the print layout of our festival program. You are responsive, fast, knowledgeable, and easy to work with. Your team was always available to assist us with our web site needs as well as timely on last minute changes. The San Diego Black Film Festival was established in 2002 and is hosted each year by the San Diego Black Film Foundation, a nonprofit 501(c) organization.
The San Diego Black Film Foundation is dedicated to the preservation and promotion of African American and African Diaspora cinema as well as the education of media arts.
Held each year in late January, the San Diego Black Film Festival is one of the largest black film festivals in the country. Thanks for all your hard work on the 2012 SDBFF. Looking forward to working with you on the 2013 festival.
Karen- SDBFF
---------------------------------
My experience with my first web designer was terrible. Days and sometimes weeks would go by without any changes being made. I'm embarrassed to show you what they eventually produced for me for the first $500 I paid them, and then they had the nerve to ask me for another $500 to get it close to what they promised for the first $500.
I threw that on the scrap heap and hired another designer. Did a good job of getting it set up, but when it came to loading the content, it took over a week to load one page and it looked like it had been done in 5 seconds.
In desperation I contacted a friend of mine in Arizona, as I love his web sites. He put me in touch with WebmasterDeveloper and the experience has been great.
The project coordinator, Chris in particular has been outstanding because she not only go the other landing pages up and running…in under 1 week I might add!! But she also made suggestions and made these pages come alive. Again, always checking with me first to make sure it was what I wanted, but I can tell you in every case it is what I wanted.
WebmasterDeveloper came in ahead of schedule and exactly on budget!! I can't thank you enough!!
Timothy V. Johnson
Awesome President & CEO
Johnson And Johnson Team Realty
Fort Lauderdale, Florida
---------------------------------
I found myself in need of a new web developer to work on my site and then also learned my current site was pretty outdated. I was put in contact with WebmasterDeveloper.com.
As they knew I was interested in a number of changes and that I also wanted to manage my site myself upon completion, they recommended rebuilding it on Word Press, making the changes I wanted and then training me.
I have to say I have been very impressed with WebmasterDeveloper.com. . They have been very professional, courteous, creative and completed my project in a timely manner meeting or exceeding my expectations.
I am now trained and have completed my first tasks myself. I am sure I will have plenty of other questions as I move along, etc. but I love my new site and I am so grateful for their help! I would definitely recommend them to anyone else in need of a web site.
L. Dickens - LucyDickensFineArt.com
---------------------------------
Prior to starting Pacific Legacy Homes, I made a 20 year career in professional engineering consulting. I made client satisfaction a high priority in order to survive. That same commitment to the customer experience is just as important in the homebuilding space. Likewise, I expect the same from vendors and consultants that we engage.
We were in need of an immediate solution to an issue with the lead generating forms on our web site. Those leads are our lifeline in a very challenging homebuilding environment. We cannot afford to lose any new lead. I searched for firms that could provide responsive solutions. I was fortunate to have found WebmasterDeveloper.
After a short conversation about the issue, they quickly diagnosed the situation and routed the problem to the programmer for follow up. Both staff members recognized that this was important to us and made it a priority without me having to say as much. The issue was resolved quickly and efficiently. Your firm has been exceptional and exceeded our high expectations. So, I thank you very much for that effort and your solutions. I would recommend WebmasterDeveloper to anyone.
Michael Graham | President | Pacific Legacy Homes | San Diego, California
Rhine Air
San Diego, California
Programming - Maintenance - Hosting & Webmaster - SEO Assistance
Film Locations Wanted
San Diego, California
Programming - Maintenance - Hosting & Webmaster - SEO Assistance

Professional Bartenders School
San Marcos, California
Programming - Maintenance - Hosting & Webmaster - SEO Assistance


Oahu Honeymoons
Rancho Bernardo, California
Programming - Maintenance - Hosting & Webmaster - SEO Assistance
Martinez Farms
San Diego, California
Web Site Design and Hosting
Maintenance - Hosting & Web Design - Webmaster
Vietnam Unit Memorial Monument
San Diego, California
Web Site Design and Hosting
Programming - Maintenance - Hosting & Webmaster - Video Production and Photography
CelebriDucks.com
San Rafael, California
Web Site Design and Custom BLOG
Search Engine Optimization
Maintenance - Web Site Hosting & Webmaster
Handmealine.com
Escondido, California
Web Site Design and Custom BLOG
Search Engine Optimization -
Maintenance - Web Site Hosting & Webmaster
TinksCreativeCakes.com
Chula Vista, California
Web Site Design and Hosting
Maintenance - Hosting & Webmaster
ExtrasforMovies.com
Escondido, California
Web Site Design and Creation
ASP.NET Membership System
Search Engine Optimization
Maintenance - Hosting & Webmaster
Photos of California
Escondido, California
Web Site Design and Creation
ASP.NET Photo Selection Application
E-Commerce - Hosting
TahitiHoneymoons.com
San Diego, California
Web Site Design and Hosting
Maintenance and SEO - Hosting & Webmaster
Honeymoons-Vacations.com
San Diego, California
Web Site Design and Hosting
Maintenance and SEO - Hosting & Webmaster
ClubMedVacation.com
San Diego, California
Web Site Design and Hosting
Maintenance and SEO - Hosting & Webmaster
TraditionalReclaimedMaterials
Orange County, California
Web Site Design and Hosting
Maintenance and SEO - Hosting & Webmaster
Bobs-Jazz
Tucson, Arizona
Web Site Design and Hosting
Hosting & Webmaster
TitanSteelFabricator
San Diego, California
Web Site Design - Hosting & Webmaster
PalomarOrtho
Escondido, California
Web Site Design - Webmaster Maintenance

Asfshar Group
San Diego, California
Web Site Design and Hosting
Maintenance and SEO - Hosting & Webmaster


PCSD
San Diego, California
Web Site Design and Creation
ASP.NET Programming & Webmaster services.

HANDMEALINE.COM
San Diego, CA
Web Site Design
Maintenance and SEO - Hosting & Webmaster

PlayHickory
San Diego, CA
Implemented Client Web Site Design & Webmaster Services



Nicholas Woods Friedreichs Ataxia Foundation
Carlsbad, California
Web Site Design and Creation & Webmaster

Riverpointe Napa
Napa Valley, California
Web Site Design and Creation
Search Engine Optimization & Webmaster
ASP.NET User Forms

ASUA
Phoenix and Tucson, Arizona
Web Site Design
Maintenance and SEO - Hosting & Webmaster

GlobalProductsOnline.com
Tucson, Arizona
Web Site Design
Maintenance and SEO - Webmaster