.Blog - ASP.NET Blogging Software for the Masses!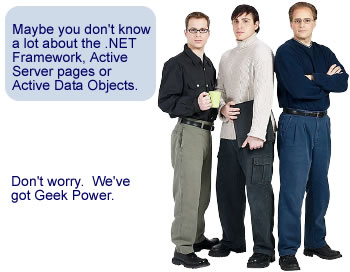 We are proud to announce the rollout of a new and powerful blogging tool: .BLOG (pronounced "dot Blog"). BLOG provides a new level of power for weblog users, while, at the same time, offering extremely simple and user-friendly setup and administration. .BLOG is designed to allow the non-programmer to setup a new blog and begin using it in less than 1/2 hour!
.BLOG is also perfect for weblogs on high-traffic web sites. By using Microsoft SQL Server 2000/2005 as the data store, and an ASP.NET (.Net Framework v2.0) application as the user interface, .BLOG can handle very large amounts of traffic without any degradation in speed or server performance. SQL Server has been proven capable of serving up data to thousands of users per second, which is far higher performance than almost any competing system.
Most weblog systems use scripting languages like Perl or PHP. With these systems, the web server had to translate the script language into the machine language used by computers before the server can perform the required operations. .BLOG, however, is distributed as an application that is already compiled into native machine language DLLs that reside on your web site. This makes .BLOG perform much better and faster than competing blogging software applications.
.BLOG is also packed with the features you need to administer your blog easily:
Unlimited authors with three levels of security permissions
Unlimited number of weblogs
Full editing control of entries, comments, and trackbacks
The widest range of HTML editing tools when creating new posts
Powerful spam-killing features to help eliminate comments spam
Calendar-based and keyword archive searching
Automatic pinging of the top weblog update services
Trackback pinging, as well as a standalone pinger for multiple trackback pings
RSS Feed
Simple Blogroll Administration
CSS Style sheets to customize both the blog, and the administrative console
.BLOG is also fully customizable. It comes with all of the source code, so that programmers can easily alter, extend, or customize its functions.
Click here to learn more! And to see the up to the minute information about this exciting new release, be sure to visit The .Blog Weblog!
And if you're looking for a web site, don't forget that .BLOG is a perfect fit with WebmasterDeveloper's Hosting Plans!
Download .BLOG Now!!!

.BLOG Weblog software

Questions? Email us!